The Minnesota mother accused of fatally shooting her 6-year-old son allegedly went to a shooting range to practise with her new gun before the killing.
In connection with the death of kindergartener Eli Hart, Julissa Angelica Genrich Thaler, 28, has been charged with second-degree intentional murder.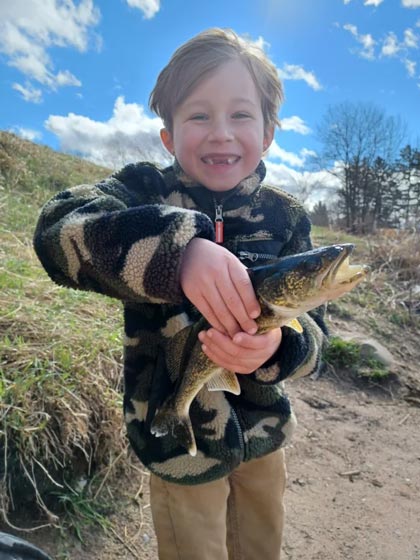 The Orono Police Department made the allegations against Thaler public on Friday.
Before his body was discovered stuffed in the trunk of a car, a SIX-year-old's family reportedly shared several warnings about the boy's safety.
Julissa Thaler, the boy's mother, was allegedly driving around with her dead son in the trunk, which is where Minnesota authorities discovered the boy after pulling her over for suspicious behaviour.
Tory Hart's family is wondering why more was not done to protect Eli Hart, who is six years old, while his mother is charged with murder.
According to KSTP-TV, the Star-Tribune, and KARE 11, a friend of Thaler's spoke to detectives and allegedly said that the young mother had expressed an interest in learning how to use a shotgun.
Police were informed by a friend. According to reports, Thaler bought a shotgun in mid-March, according to the complaint.
According to the complaint, the two spent two days at a gun range so she could learn how to use the weapon.
Eli's body was discovered in the trunk of Thaler's car, which contained a grey blanket. Orono police discovered Thaler's car in Mound, Minn., after officers saw a woman "driving on one rim with a shattered-out windshield," according to Chief Correy Farniok.
Police discovered blood and a spent shotgun shell inside the vehicle, as well as blood on Thaler's hand, during the stop, but they released her after impounding the vehicle.
Following a search of the vehicle, authorities discovered Eli's body as well as the shotgun they believe killed him. When police arrived at Thaler's apartment, they noticed her walking away from the scene.
Thaler allegedly hid the weapon in a grey blanket whenever she left her apartment with it, according to police.
Police arrested her after noticing blood in her hair, according to reports.
Police later tracked the road damage caused by Thaler's vehicle's tireless rim and discovered human remains, a child's car seat damaged by a gunshot blast, and a backpack along the way.
Another unidentified person, a 27-year-old man, was arrested at the same time, but he will not face formal charges, according to police. According to reports in the local media, that man was Thaler's friend who accompanied him to the gun range for practise.
Eli's father and Thaler were fighting for custody of him.
The young man, who aspired to be a firefighter, had been in the custody of social services since January 2021, when Dakota County filed a Child in Need of Protection or Service petition on his behalf.
Eli was in and out of county custody and family foster care for 457 days.
According to a GoFundMe campaign set up to help pay for Eli's funeral, the boy lived with extended family members for 11 months before being returned to his mother's care for a home trial in December 2021.
Tory tried extremely hard to get custody of Eli due to many red flags Eli's mother was displaying, according to the fundraiser's description. "Several parties made statements to CPS, fearing that if full custody was returned, mom would harm Eli. Unfortunately, on May 10, 2022, full custody was returned."