Sometimes places and things all around the world are left abandoned due to various reasons, and very often these places become so interestingly beautiful that catches your eyes almost instantly. These 15 pictures of Abandoned Places and things are such beauties that will leave you wowed.
1. Just an Abandoned Super Sonic Passenger Jet Tu-144
It's not every day that you see a supersonic passenger jet, parked in the backyard. Well, at least anyone who stumbled upon this Russian supersonic passenger airliner was lucky enough to witness it from so close. This particular aircraft was spotted on the outskirts of Kazan City, Russia at the Institute of Aviation of the Kazan National Research Technical University.
The aircraft was sitting at this courtyard from the last 32 years until someone decided to put a photo on the famous site Reddit. It soon began to circulate all over the internet some claiming it to be left abandoned and what not.
But the truth is, this particular aircraft wasn't left abandoned, instead, it was waiting to receive restoration and was actually there for public view. Hopefully, the aircraft was finally restored with some new paint job and was sent to its new home at the center of Kazan to convert into a monument.
2. Abandoned Supermarkets at Fukushima still holds some groceries, intact
In March 2011, an earthquake led to a tsunami that devastated the outskirts of Fukushima and caused the 2nd most severe nuclear accident in history after the 1986 Chernobyl accident. The accident happened at Fukushima Daiichi Nuclear Plant, located in Fukushima, Japan.
Around 154,000 residents were evacuated from the city from the area of about 20 Kms leaving the city's markets, homes, schools, and every infrastructure abandoned, which was under nuclear radiation threat.
Currently, some of the areas, especially too close to the plant are totally prohibited to be entered, some areas are now open to be visited, but the officials believe it will remain inhabitable for almost a decade ahead.
3. Abandoned Space Shuttles from Russia
These Russian spacecraft, one of which took a test flight in 1988 were left abandoned at the Baikonur Cosmodrome in Kazakhstan when one of the roofs collapsed, killing 8 people and damaging the spacecraft. The other spacecraft was almost 90% complete for a takeoff when the accident happened.
In the lack of enough funding from the government, Russian authorities decided to leave the whole plant abandoned where sits the 2 Buran spacecraft.
4. Abandoned Old Restaurant in Rio, Brazil
Belvedere do Grinfo, an old disco restaurant built in the 1950s and opened in the 1960s is now a lookout point at the hillside of Petrópolis, Rio de Janeiro, Brazil. With the construction of the ascent track (one-way), the movement fell and, consequently, the place closed.
5. Abandoned Japanese Planes from WWII
Not only Russian, but there are Japanese planes too, abandoned, submerged in shallow water. A Japanese Aichi E13A long-range reconnaissance seaplane, which was stumbled upon by a tourist traveling at the archipelago of Palau.
6. McDermott's Castle — Disney like Irish castle, left abandoned
Located at Lough Key, Ireland, McDermott's Castle is an abandoned castle built back in the 12th century which was burnt to the ground after a fire invoked by a bolt of lightning.
It was then reconstructed about 200 years ago by an English family. Although the castle was lost by McDermotts in a war, the ownership went to an unknown Irish family.
But that's not all, this castle was once up for sale for about $80,000 USD back in 2018, but was later canceled. Only if someone would have bought it, this half-acre property could have been a dream vacation home for the owner.
7. Abandoned U.S. Presidents' Heads in Rural Virginia
Photographer Howard Hankins was fond of taking photos of abandoned places and things, but in 2010 he found himself facing something unexpected. These were 43 giant sculptural heads of U.S. presidents lying in middle of nowhere in Virginia.
As it later turned out, these masterpieces were work of a Houston based artist David Adickes, who built these to be shown to the public at his Presidents Park. But eventually, the park failed to gain enough tourists leaving it to go bankrupt.
This is when Hankins came to rescue, he was initially asked to destroy these sculptures, but instead, Hankins offered to move these to his 400-acre property. These now lay at Hankins's private property and he doesn't allow any requests to visit these artworks.
8. Abandoned Hashima Island With Its Dark History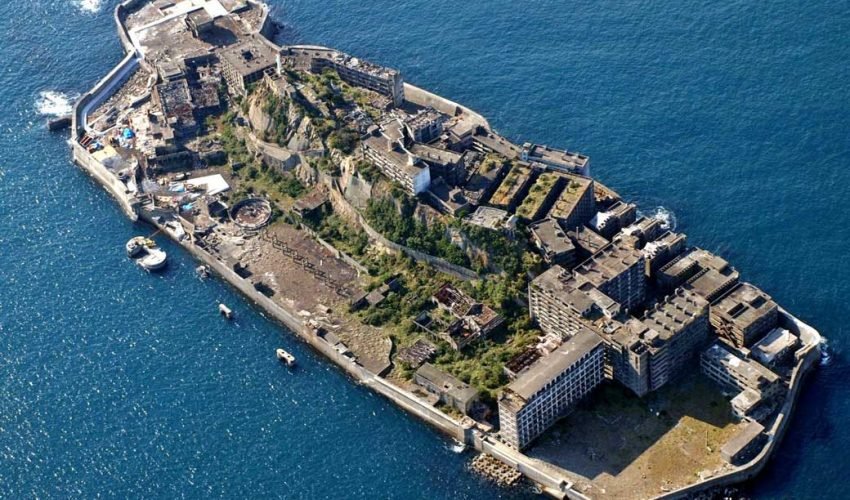 Hashima Island, situated about 9 miles away from Nagasaki, Japan, was home to around 5259 people during 1959. This 16-acre island actually has a dark past to have held Korean and Chinese prisoners who were forced into the coal mines situated here.
Hashima Island was refused to be included in one of the world's heritage sites in 2009 upon Japan's request due to the fact that around thousand forced laborers lived here under inhuman and harsh conditions and lost their lives.
The island was left abandoned when the coal was replaced by petroleum products. This ship-shaped island is open to tourists.
9. Detroit's Mark Twain Library left abandoned
Mark Twain Library, located in Detroit was originally planned to provide enough space for its members to not only sit and read but also to hold social gatherings and events.
While the library remained an active community center for decades, it eventually was left abandoned in the 1990s after Detroit's financial problems raised.
10. Abandoned $200 Million Turkish Ghost Town
Burj Al Babas, located in a small town Mudurnu, Turkey, is a residential development, estimated $200 Million of worth, but now became a ghost town. These 732 homes were designed to resemble miniature chateaux.
Out of these 732 houses, 587 were completed, but the developer went bankrupt after he failed to sell enough of these houses. These miniature mansions now contribute to form a ghost town in Turkey.
11. An Abandoned "Nazi" Island Castle in the Bahamas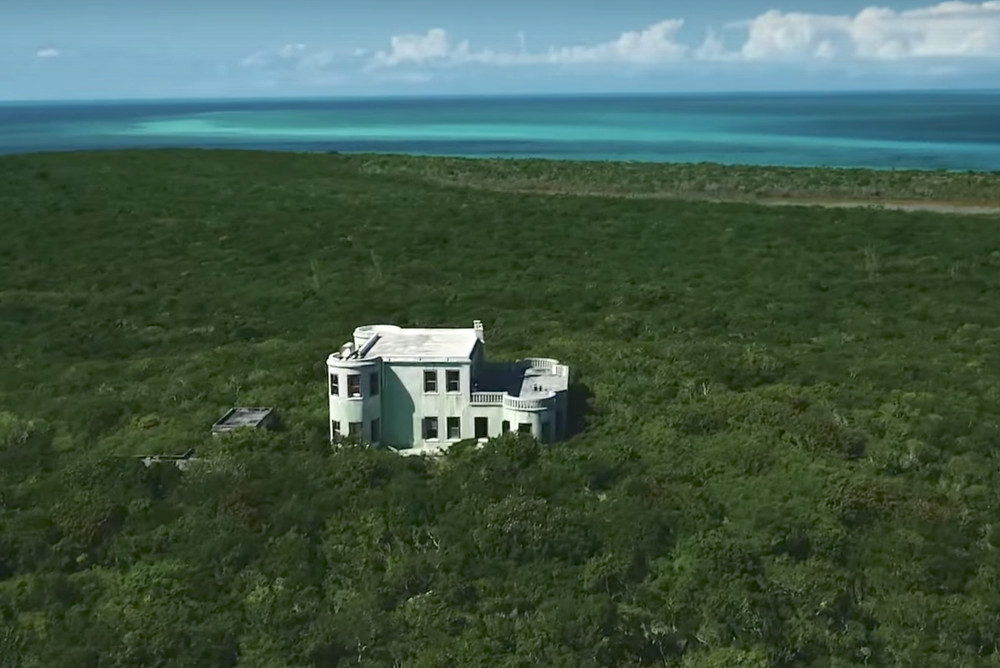 Once owned by a British hotelier, Sir Guy Baxter who is rumored to be a Nazi sympathizer, this abandoned castle sits on Darby Island in the Bahamas, one out of 300 islands within the Exuma Cays.
With a fair amount of strange history attached, a disused airstrip, and covering around 554 acres with 14 beaches, the castle still holds the mahogany floors and furniture, and you can buy all of this only for $46 Million.
12. A Decaying Great White Shark at an Abandoned Melbourne's Aquarium
Looking like a scene from a horror movie, this is what you would have seen if you had visited Wildlife Wonderland in Victoria, Australia. But don't worry, this Great White shark didn't die in here neither was left abandoned. Rosie, the great white shark was killed in 1998 after it stuck into a fishing net.
It was John Matthews, director of Wildlife Wonderland who bought dead Rosie and preserved her body with formaldehyde to be publicly displayed at his wildlife park. But unfortunately, the park was closed back in 2012 after it failed to provide a proper licensing to run the place.
Although, Crystal World & Prehistoric Journeys director Tom Kapitany bought this decaying shark again in 2019 and was then put on display.
13. Abandoned Ship SS America at the Canary Islands
An amazingly built passenger ship SS America which was sponsored by Eleanor Roosevelt, wife of then-President Franklin D. Roosevelt in 1940s. SS America was designed by famous naval architect William Francis Gibbs and is known to have carried a number of passengers including army personnel, Red Cross members, children, and many more during her services.
The ship was sold in 1992 to be converted to a 5-star hotel ship in Phuket, Thailand. Her propellers were removed and it received a new paint job. The ship was then planned on a 100 day towing, which was carried out by a Ukrainian tugboat, Neftegaz-67 in the Atlantic.
In a thunderstorm, the tow line broke, and deployment of emergency tow line proved to be unsuccessful. SS America was now floating aimlessly in the middle of the sea. The crew aboard on the ship was then rescued by helicopter on January 17, 1994, and the ship was left adrift.
The ship eventually found its way at Playa de Garcey, off the west coast of Fuerteventura in the Canary Islands, and was left abandoned after the ship owners decided to leave it to nature.
The ship was broken into two just 48 hours of it was left abandoned after a pounding surf hit the ship. The ship was last seen in 2013 on google maps and it was then submerged into the sea completely.
14. An Abandoned Submarine in Colombia
Not only ships but sometimes even submarines are left abandoned too. But what about this particular one? Well, this one made its way on the internet on Reddit, when a user posted this photo of an abandoned submarine lying somewhere in the jungles of Colombia.
The user named PapelDeFumar claimed the submarine to be used by drug dealers. What an amazing find, only if it's not dangerous to be found!
15. A Mysteriously Hidden and Abandoned PZL TS-11 Iskra Jet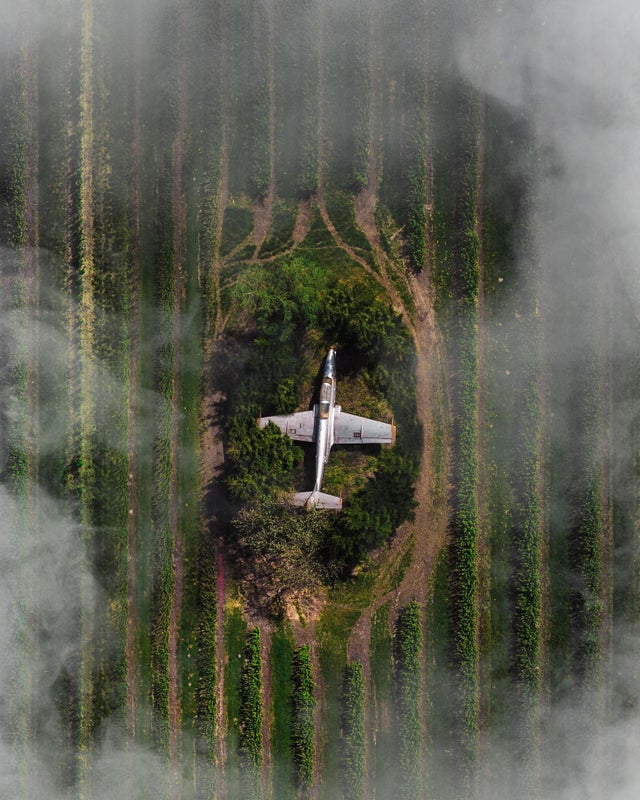 This one is the most mysterious of all the abandoned things in this list. This photo surfaced a few years ago on Imgur and the user who claimed to have taken the photo was not to be found anywhere. This is one of 424 PZL TS-11 Iskra Jet trainers which were manufactured in Poland from 1963 to 1987 and were used by Polish Airforce.
Although upon researching, we found that this aircraft lies somewhere in Wólka Nosowska, Poland in the middle of what seems to a farm. But deeper investigation revealed this to be located in Kluczewo Airfield which is a former Soviet airbase and is known to hold more aircraft relics including one of a MiG-21.
Now that you have read about these amazing Abandoned Places and things, you might also like reading about Naale Baa, an Urban Legend that will lure you out if you don't ask her to leave.