Ever wondered what's possibly the longest route for bus service? Well to answer that we have to go back in time, more than half a century before, in the 1960s. People were able to travel from London (England) to Calcutta (India), and that's not on an airplane, it was by a Bus!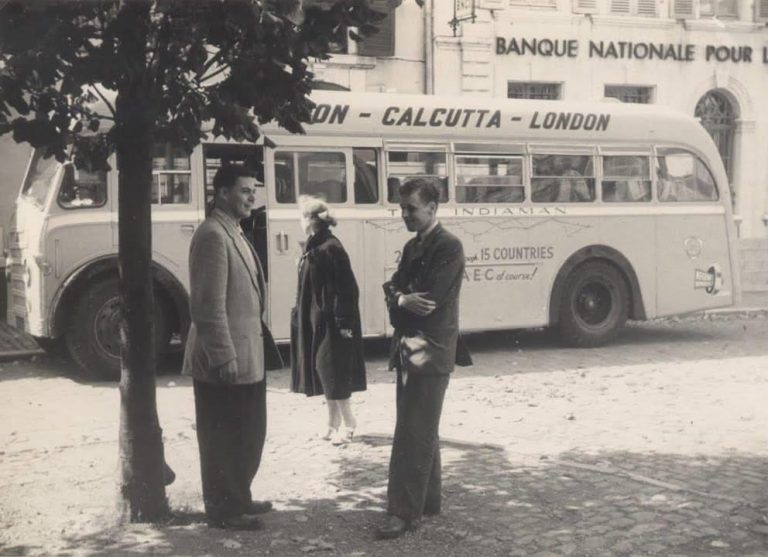 A recent viral image started doing rounds all over the internet showing passengers at Victoria Coach Station, London boarding a bus named 'Albert'. The image was circulated claiming that the 'Albert' bus services provided transportation from London to Calcutta.
As it turned out, this is in fact true. Back in the 1960s, 'Albert Tours' started a lavish bus trip from London to Calcutta (now Kolkata), India, and making it the world's longest route ever. The trip took 5 days from London to Calcutta also covering other countries like Belgium, Austria, West Germany, Bulgaria, Yugoslavia, Iran, Afghanistan, West Pakistan, and then to its destination, India.
The one side trip cost about 145 pounds (approx £1600 of today) which is not that expensive given the era. And this included a luxurious 5 day trip on a Double Decker bus. The services included Radio/Taped music, a lounge, individual sleeping bunks, fan heaters, dining on the bus, and other amenities.
The cool interior of the bus provided a lavish feel and as their tag line said: "Your complete home while you travel", seems fair to what was being provided at that cost.
Reportedly, the bus service did a total of 15 rounds from London to Calcutta and used a fuel-efficient AEC Regal III bus for its first four trips and an AEC Mandator for the later trips. Perhaps, passengers had the option to choose from the type of luxury they needed for their trip since reportedly, there were buses other than a Double Decker used for this trip.
The first passengers on the bus included two ex-firemen, emigrating to Australia, as well as Australians and Indians returning home.
However as we found out, this was not the first cross-continental journey by road. Before 'Albert Tours' started this luxurious trip, a group of students (six) from Cambridge and Oxford Universities traveled from England to Singapore, and reportedly they were sponsored by a young broadcaster for BBC, named David Attenborough. Although, 'Albert Tours' remains the first to start a public cross-continent transportation through roadways.
What do you think about this type of bus services ? Would you book a trip like this if it starts now ? Let's us know in the comments below!