Considered to be Australia's worst serial killer, Ivan Milat shook the nation after the revelations of seven grisly murders of European and Australian backpackers during the 90s. From 1989 to 1992, Milat abducted, robbed, sexually molested, tortured, and killed a total of seven people who took a wrong decision of taking a ride from him on the Hume Highway.
Hitchhiking was considered to be one of the adventurous and inexpensive means of travel during the 90s with Australia having a reputation as one of the safest countries in the world, and Ivan Milat was going to change that, forever.
Backpacker Murders' Unanswered Truth
Ivan Milat was convicted for the murders of 2 British, 3 German, and 2 Australian backpackers, but he never pleaded guilty and kept claiming to be innocent while there was all of the evidence against him. He never in his life accepted on brutely killing those 7 hitchhikers, neither ever spoke about it with anyone while inside the prison, taking a number of unanswered questions to his grave after his death in October 2019.
On 30th December 1989, Australian citizens James Gibson and Deborah Everist both 19-years-old went missing and their last location was reported to be Surry Hills. Two years later in January 1991, 21-years-old German girl, Simone Schmidl disappeared after she left from Kings Cross to hitchhike to Melbourne, to meet her mother.
On the 20th of December 1991, German couple Gabor Neugebauer and Anja Habschied left their hostel in Kings Cross, never to be found again. In April 1992, British backpackers Caroline Clarke and Joanne Walters went missing with their last whereabouts also remaining at Kings Cross.
None of these young people were ever seen or heard from again, they were all young and carefree searching for adventure, and the only thing common between all of them was that they accepted a ride from a friendly stranger, Ivan Milat.
Ivan Milat was born on 27th December 1944 into a poor working-class family, in rural Australia. Having 13 other siblings, it was not uncommon that parental love and attention were thinly for him.
Milat boys were very well known to the local police, and would always remain close to trouble. Ivan was no different and displayed antisocial nature during his teenage. His younger brother George said that he had a temper issue from an early age, and he would want to have control over everything.
Though Milat's criminal career began in a very petty manner, it was a lot of car stealing, and at one point he broke into an army barrack to stole a safe with his friend. He wasn't particularly a good criminal, and kept getting caught, spending most of the 60s in correction institutions.
Ivan Milat moved from petty crimes to the most serious crimes of rape when he picked up two female hitchhikers. They managed to confuse and confound him for some time before striking a deal. Milat agreed not to kill them if one of them had sex with him, but eventually he was later caught and charged later when the girls reported the crime. Unfortunately, they were the last known victims of Milat in that sort who survived, he now knew that leaving survivors wasn't particularly a good idea.
The Beginning
Ivan Milat was incredibly domineering and violent, especially against his wife. On the 13th of July 1989, Karen divorced Milat which eventually made his criminal history worse. The power and control over his wife he once exerted were gone, and he turned to the highway to fulfill his fantasies of dominance and control.
Paul Onions, the only survivor who lead to Milat's arrest
Milat picked up British backpacker Paul Onions, hitchhiking on the Hume Highway. Onions was pleased to be getting this lift not knowing it was going to turn into a nightmare.
After traveling for a while along the highway, Milat stopped the car, got out, and took out his pistol and a rope calling it a robbery. Onions, in a split second took a life-saving decision, jumped out, and started running in a zigzag manner before flagging down another motorist. He heard two shots fired behind him, but with the help of the motorist, he was able to survive and report the incident to the Bowral police.
Following Onions' escape, there were no murders reported for the year, whilst he was lucky to get away, two more wouldn't be so fortunate.
Caroline Clarke and Joanne Walters
Caroline Clarke, a 21-year-old British backpacker was having her childhood dream of visiting Australia fulfilled and met Joanne Walters in Kings Cross where both girls decided to go on expedition together, and to save on cash they hitchhiked against Caroline's parents advice.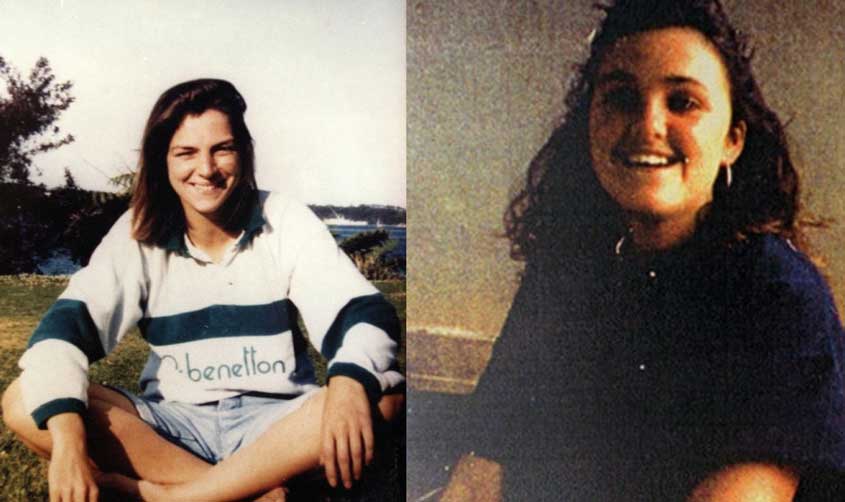 Four months later of their disappearance, remains of both Clarke and Joanna were found by two cross country runners, in the Belanglo State Forests. Both were brutally murdered with multiple stab and gunshot wounds on both their head.
Autopsy results showed different entry points to the skull, suggesting that the killer had moved the head in order to do it again as he probably got pleased with it.
The investigators were creating a profile of the killer, which narrowed down to someone who lived in the Belanglo Forest area, loved guns, but hated women. No surprise that Milat's family was taken into account but there was no evidence and police wasn't able to get a warrant to search any of the Milat's homes.
Deborah Everist and James Gibson
A year later, a bushwalker found the skeletal remains of Deborah Everist and James Gibson, and similar to Clarke and Walters, both had been stabbed and shot. Gibson's spine was ripped off using a knife causing paralysis., and Everist was severely beaten and stabbed. The victims had been tied up in some fashion and it was a common pattern between the two crimes which made investigators sure that the same killer was responsible in the two cases.
Police suspected that there were more bodies to be found and the biggest searches in Australia's history had begun. More than 300 police officers searched 78 km of track in Belanglo State Forest, pushing through the dense, rough terrain. Within months, the remains of further three victims had been found, bringing the total to 7.
Gabor Neugebauer, Anja Habschied and Simone Schmidl
The body of Simone Schmidl was found soon during the police sweep, with stab wounds all around and a severely damaged spine. Three days later 2 more bodies of a German couple Gabor Neugebauer and Anja Habschied were finally found. Investigators realized that the killer went more brutal after each murder as Habschied had been decapitated, and despite the extensive search, the skull was never located in the wilderness.
The shocking discovery of severed bodies shook the nation and investigators appealed to the public for help to track down this brutal serial killer on the loose.
The police received around 5,119 calls, and one was from British backpacker, Paul Onions, who might have met the same fate as the 7 backpackers if he wasn't that lucky that day.
Onions saw the remains of Clarke and Walters found in the Belanglo State Forest, the same place he had been attacked earlier. It didn't take him much to figure out that the person who tried to rob and kill him might be the same person as the one behind these murders.
Milat was already under surveillance and the dots just started connecting. Investigators found Milat's obsessions with firearms, and that he had not worked on the days of the attacks. He also sold his 4WD vehicle shortly after the discovery of the bodies, and the vehicle identification matched with that of Onions' statement. The connection was further concreted after Onions flew from U.K. to Australia to help with the investigation. Onions positively identified his attacker, Ivan Milat.
Police with sufficient evidence in hand to arrest Milat for the attempted murder and robbery of Paul Onions were able to get the search warrant they so desperately needed. On 22nd May 1994, Milat's house was raided along with that of his family members.
A huge amount of ammunition and arsenal of weapons, ropes, cable ties, belongings of the victims were found both at Ivan's and his family members' homes. The weapons found at Milat's house were identical to those used for the murders of the backpackers.
There were backpacks, tents, cooking sets, cameras and all sorts of things that they could trace back to the individual backpackers. Interestingly there was a framed photograph of Milat's recent girlfriend, in which she was wearing a tshirt belonged to Caroline Clarke, which was later identified by her mother.
Despite all the hard evidence against Milat, he maintained his innocence in custody. Australia's biggest ever murder trial began in March 1996, and Milat pleaded not guilty to all charges. He was confident that he would be cleared of all charges, and at one moment, Milat's lawyer tried to blame it all on one of his brothers. Eventually, he was found guilty and was sentenced to spend the rest of his life in prison for the seven counts of murder and an additional six years for the attempted abduction of Paul Onions.
From an attempted escape to 9 days hunger strike in demands of a PlayStation, and eating razor blades, Milat kept acting like he was falsely charged while in prison. The only time he said anything closely related to the backpacker murders was in 2004 while giving a TV interview, in which he only denied any involvement of his family in the seven murders. A movie was also produced on Ivan Milat's backpacker murders named Wolf Creek in 2005. Ivan Milat died in prison on 27 October 2019 from the esophagus and stomach cancer.
"He was going to kill somebody from the age of 10, It was built into him. He is a psychopath" his brother Boris Milat said.
Liked reading about Ivan Milat? You might also like reading about this 5″4 tall serial killer who goes by the name Pee Wee Gaskins.