After only six months in prison, a distraught father who forced his best friend to kill himself after discovering the man had sexually abused his daughter was released from prison.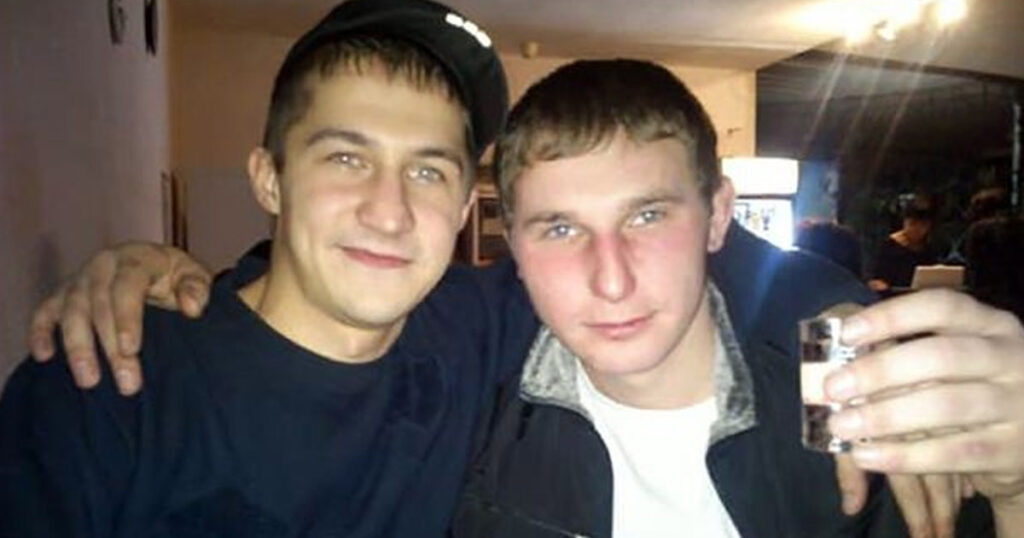 Vyacheslav (Slava) Matrosov, 35, was sentenced to 18 months in prison but was released a year early.
In Russia, there was an outpouring of sympathy for the father who forced child sex abuser Oleg Sviridov, 32, to dig his own grave in the woods.
The paedophile died soon after after a fight with Matrosov, who buried his body in an unmarked grave.
Investigators concluded that Sviridov committed suicide during the forest brawl in which Matrosov vented his rage over the sex abuse.
Sviridov had sexually abused Matrosov's six-year-old daughter on multiple occasions.
After being released from prison early, the father posted a photo of himself with his wife Natalya, 35, with the caption: 'Home.' 'I adore you.'
Matrosov was initially detained on suspicion of murder, which sparked a public outcry in Russia.
Krasnoglinsky Court in Samara convicted him in April of 'inciting' his friend 'to suicide,' and sentenced him to 18 months in a strict Russian penal colony.
The father's close friendship ended when he discovered sickening and graphic footage of Sviridov forcing his daughter to perform a sex act on him on his friend's phone.
'Oleg, that's enough, I can't take it any longer,' the girl, now nine, was heard pleading. 'I'm ready to go home.'
Matrosov, a former rocket engine factory worker, could have faced a 15-year prison sentence if charged with murder.
Matrovov received widespread public support in the Samara region after he was linked to the murder of paedophile Sviridov, and the case was widely publicised around the world.
Pribrezhnaya residents raised funds for his initial legal fees.
A petition signed by 2,500 people demanded that he be acquitted completely.