Kerri Rawson had a perfect life until she was 26 – for the first 26 years of her life, Kerri Rawson had no idea that her loving father was the man the whole town was afraid of Dennis Rader, the BTK killer who murdered 10 people, many of whom were just as young women like her.
"He was trying really hard to protect us, but we realized he was also trying to protect us from somebody like him."
Kerri was raised by loving parents and had a beautiful childhood, Dennis Rader was everything she wanted in a father. He regularly took her fishing, hiking, helped her decorate the Christmas tree, and taught her all about the great outdoors.
But all of that changed one day when an FBI officer knocked on her door and explained that her father had just been arrested as a BTK killer.
10 years later Kerri Rawson told in an interview about the day, "It was a normal day, I had slept in, I was substitute teaching and I took the day off. I'm already… uptight and thinking, Who is this person in my apartment building?' and then he said… he was the FBI?"
"He asked, 'Do you know who BTK is?' I was like, 'You mean the person that's wanted for murders back in Kansas?' She continued, "and then he says, 'Your dad has been arrested as BTK.'"
It's one thing to be married to a serial killer, unwittingly, but being his child is quite another. Dennis Rader killed 10 people, and her daughter is forced to live with the shame of BTK's daughter.
Who is Kerri Rawson?
Kerri Rawson was born to Dennis Rader and Paul Dietz, in Wichita Kansan in 1978. For more than 20 years, Dennis Rader was treated with respect among the community, Kerri had the image of her father as a veteran, a church board president, and a Boy scout troop leader.
Everything was going great for the family until one fateful knock at the door changed everything. Kerri Rawson was a substitute teacher, but she took a day off, it was a normal day for her until an FBI agent knocked on the door and said, 'Your dad has been arrested as BTK.'
Kerri Rawson was born after his father began his killing spree, Dennis Rader murdered 7 people before Rawson was even born.
"I'm a crime victim from before I was born, I was born in '78… My dad murdered a young woman when my mom was three months pregnant with me. So that makes me a crime victim because you're living with a criminal," Rawson told in her interview with 20/20.
"My dad had always told me… make them prove who they are because he said they can pretend to be somebody else… And my father had gotten into people's house, just be doing the same."
Did BTK's Family had any clues?
Dennis Rader's wife filed for an emergency divorce the day he was arrested, she was granted an emergency divorce a month after Rader's arrest. Kerri Rawson told in an interview that neither she nor her mother or her brother knew anything about Dennis Rader's killing before his arrest.
Kerri said that she never even had a hint that something like this was going on. She could never have imagined that her church-going, boy scout leader father could be behind such horrific crimes. "We were living or normal life, we looked like a normal American family because we were a normal family and then everything upended on us."
Most of the time Dennis was an even-keeled and kind and warm father, but at times, he could be very firm or have flashes of anger or outbursts that no one expected.
In reality, Kerri Rawson's DNA helped police catch her father. They got a warrant to test the DNA of a pap smear Kerri had taken at the Kansas State University when they suspected her father, and because they found the DNA matched with the one they had found under one of the BTK's victims' fingernails, and they were able to convict him.
"You're going into shock, and you don't know what's wrong with you, and the room gets literally brighter; it gets dark, it kind of spins… so you're focusing on things like cookbooks, or a purse, because you're going through trauma, and you don't know it, and you're trying to ground yourself."
Kerri Rawson still recalls asking the agent for his ID, because her father had always told her to make people prove who they were before trusting them because anybody can pretend to be somebody else.
"My dad had always told me… make them prove who they are because he said they can pretend to be somebody else… And my father had gotten into people's house, just be doing the same."
Crimes Of Dennis Rader
For more than 30 years Dennis Rader, BTK killer haunted the community in and around Wichita, Kansans, torturing and murdering 10 people. BTK stands for Bind, Torture, Kill, a name he gave himself years after indicating what he had done to his victims.
BTK was known for taunting local media and police with letters, sometimes with phone calls only to get recognition and detailing of his horrific crimes.
His first victims were the Otero family, he killed 4 of their members, including two children, in January 1974. He didn't stop and kept killing, his wife was three months pregnant with Kerri when he killed a young woman.
Dennis Rader murdered his final victims, Dolores Davis in January 1991, and after that, the BTK killer went silent – no phone calls to police, no letters left around town or sent to journalists. Most in Wichita believed he just disappeared.
Dennis Rader was arrested on Feb. 25, 2005, while he was on his way home to have lunch with his wife.
Where is Kerri Rawson now?
Kerri has been a fighter her whole life, the struggle was real after he knew that his father murdered 10 people. She suffered from PTSD, and now doing her best to move on from the past.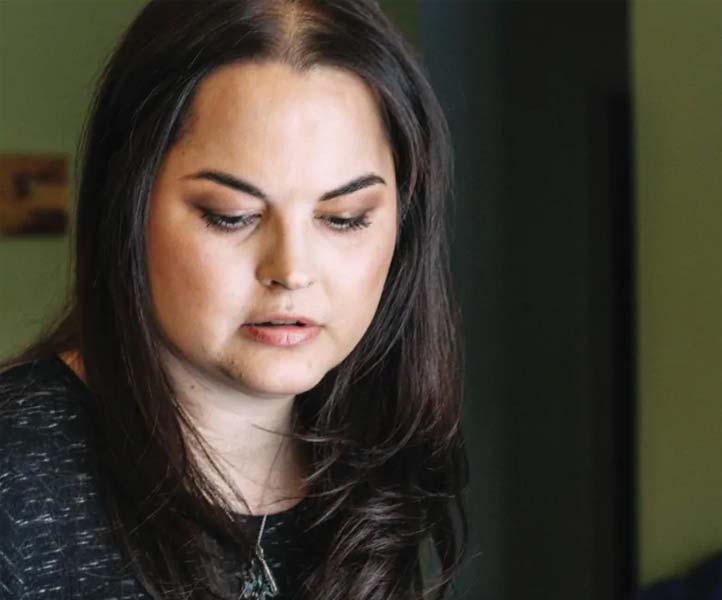 Kerri Rawson decided to write a book as a part of her healing process. She struggled to write the book and especially think about who her father was before everybody found out and after he confessed.
Kerri's book – A Serial Killer's Daughter: My Story of Faith, Love, and Overcoming, was published in January 2019, has helped her to heal in a way nothing else could, she wrote on her website that she wrote the book to help "all who suffer from unhealed wounds or the crippling effects of violence, betrayal, and anger" "forgive the unforgivable."
Rawson's mother has read her daughter's book, she said that even though she knew what was coming while reading it, she didn't want to put it down, but she had to due to trauma.
"I feel like my father imploded my family, We're not the same and we'll never be the same." Although she has forgiven her father, after his arrest Rawson waffled between hating and loving her father, defending him, and believing he was the BTK.
When Dennis Rader complained about the lack of visits from his family and told the pastor that he had been a good man, "who just did bad things," to which Kerri Rawson grew disgusted and wrote him an angry letter.
"You have had these secrets, this 'double life' for 30 years; we have only had knowledge of it for three months. Give us some time… we are trying to cope and survive… you lied to us, deceived us."
Kerri Rawson had trouble getting out of what her father had done, "I live with depression and anxiety. I'm suffering from PTSD, I had my family. I had my husband. I had therapy. But you're sort of alone, It's very lonely – the worst club you could ever imagine belonging to, being the daughter of a serial killer."
Dennis Rader pleaded guilty on June 27, 2005, to 10 counts of first-degree murder. Now 75 years old, he is serving 10 consecutive life sentences without any possibility of parole in El Dorado Correctional Facility in Kansas.
Read more from the website: