Frozen in time, the moment in 1993 when James Bulger was abducted remains etched in the minds of thousands of mothers and families as the crime was unprecedented and all the more horrific because his killers were children themselves, making them the youngest convicted murders in British history.
Abduction of James Bulger
The first and only evidence police could find on February 12th 1993 in the case of missing 2-year-old James Bulgar was a CCTV footage, which seemed either too horrific or not at all harmless at first. Little James could be seen following two young boys who seemed around 10-13 years old.
Denise Bulger along with her son James went to the Strand Center in Bootle, Liverpool. It took only a few minutes for James to be carried away from his mother. After looking for him for a while when Denise couldn't find him, she contacted security which also failed to locate the child inside the busy shopping mall.
The local police were called and a major search operation was carried out across Bootle. Search parties included patrol cars with loudspeakers and family members yet James Bulger was nowhere to be found.
Police turned to the CCTV footage from the moments of James's disappearance and they found him leaving the Strand Center at around 3:40 PM. While her mother could be seen looking for him in a panic on the ground floor, James was seen in footage at the top floor of the precinct, one minute later he appeared to be following two boys. Just a few minutes later, James was seen holding a hand with one of the boys, leaving the mall.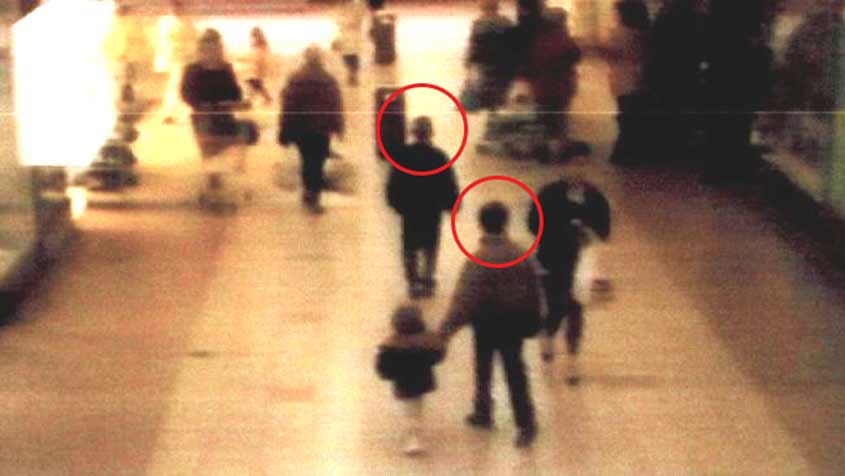 Despite declaring it a major incident and help from the public, James whereabouts remained unknown, until Valentine day.
A body of a toddler was found on railway tracks in Liverpool's Walton district nearly 3 miles away from the Strand Center where the 2-years-old James disappeared two days ago. The body was found just 100 yards away from the Walton Lane police station and was finally identified as James Bulger by his uncle.
While investigators were still looking for the murderers, everyone else had only one question in mind, why?
The only lead that investigators had was the grainy CCTV footage, but it was still unknown who the two young boys were with James. As the news of the disappearance and murder of Bulger was all across the town and the nation, police received an anonymous tip-off of who the two boys could be.
Robert Thompson and Jon Venables
The public was already outraged as the police were still not able to catch the killers. So the authorities secretly visited Robert Thompson who lived in Walton, not far from the murder scene with his mother and 2 younger brothers. He was 10 years old.
Another suspect, Jon Venables was also taken into custody. Venables parents divorced when he was 3-years-old and shared custody of him, his brother and sister. Teachers described him as an attention seeker. He was also 10 years old.
Both were taken into the separate police stations for the interrogation. The case became too challenging for the officers who were about to take interviews with two 10-years-old suspects in such horrendous crime.
To establish whether Thompson could tell right from wrong, Detective Sgt. Roberts asked him questions like "Was it right or wrong that baby James should have been killed ?". To which Thompson said that it was wrong.
Talking to the kids for a while in parts, they soon broke out and confessed that they had taken James from the shopping center. Thompson admitted taking James to the railway line where he said Venables had thrown paint at him which they had shoplifted from the mall the same day. While Thompson tried to put it all on Venables, police knew whom of the two led the whole horror done to the James Bulger.
Describing the horror
The horror Thompson and Venables had done to little James was frightening and something sticking in your mind forever. The two boys told the police that James in fact wasn't their only target that day.
They were looking for any child to abduct and planned to lead him to the heavy traffic and throw under a bus or taxi making it look like an accident. They described how they took James instead from the Strand Center to the railway tracks, bypassing among the 38 witnesses. While most of them didn't intervene, the two boys told the rest that James was their brother or that he was separated from his mother and they are taking him to the police.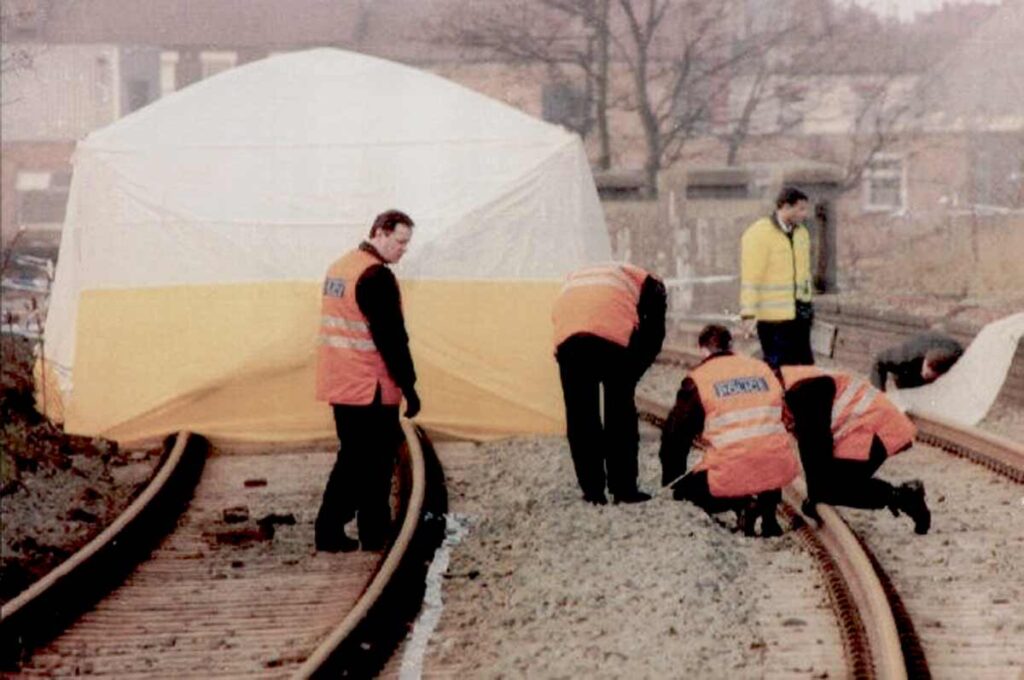 They hesitated crossing the Walton Lane police station, but after reaching the tracks, one of the boys threw the blue paint into James's eye. Then they started with their unimaginable gruesome acts, kicking little James, stamping on him and throwing anything they could grab around like stones and bricks.
They also revealed that they put some batteries in his mouth that they had steal from the Strand. They finally ended James Bulger's life by pushing him down and dropping a 10kg iron bar (railway fishplate) on his head.
James suffered a total of 42 injuries, including a number of fractures on his head. And to make everything look like an accident, the two threw his body on the tracks. When James's body was found by the police, it was already hard to tell the identity of the boy. But the forensic reports revealed that he had died before he was struck by the train. Investigators also claimed that James Bulger was sexually assaulted before his death, however, Venables's psychiatrist denied any sexual element to the offense. Eventually, the two boys were not charged for any sexual conduct in Bulger's case.
Arrest and Trial
During the trial, both boys pleaded not guilty to James's abduction and murder, they also denied the third charge, attempted abduction of another boy in the same shopping center that day.
The jury finally decided to announce both the boys to be guilty of the murder. Thompson and Venables were sentenced to a minimum of 8 years under local authorities' care, which was heartbreaking to James's mother Denise as she thought it wasn't a true justice to James and the two boys should be sentenced to at least 15 years in prison.
Denise fought against the decision and a petition bearing more than 250,000 signatures were handed over to the Home Secretary of that time. The minimum sentence was then raised to 15 years, while Thompson and Venables appealed both in Britain and in the European court.
Where are Robert Thompson and Jon Venables now ?
Both were released in 2001 on life license after the parole board believed that they were no more a threat to the public's safety. Their names were changed and they were given new identities, moving them to unknown locations under a program that prohibits anyone to publish anything that might reveal their identities or whereabouts.
Now that you have read about James Bulger's case, you might also like reading about Karla Homalka and Paul Bernardo, the deadly duo of Serial Killers.