One of the most curious questions that at least once have crossed our mind is who is/was the tallest person in the world? We might know a lot of famous personalities known for the extraordinarily tall appearance like Shaq O'Neal or André the Giant, but the record for the tallest man ever to live on earth remains unbroken even after 80 years, conquered by Robert Wadlow also known as the Alton Giant.
Who was Robert Wadlow?
Standing at an astonishing 8 ft 11.1 in (272 cm) tall, Robert Wadlow holds the world record for being the tallest person to have ever lived, even to this day. Born on February 22 1918 in Alton, Illinois, he was a healthy child weighing a normal 6.8 pound. But unlike any other baby, Robert grew at an extraordinary rate and he was 5 feet 1 inch tall when his mother took him to the school for the first time at the age of 5 years old.
Only 3 years later, when Wadlow turned 8 years old, he already had crossed his father Harold's height of 5 feet 11 inches.
After Wadlow started going to school, everyone including the teachers couldn't resist noticing the giant student, who's huge hands would cover the regular size notebook, and his leg laying far out of the desk, and at one point the school had to have a special desk made for Wadlow.
Throughout his life, Robert would continue to grow at outstandingly great, but the question that many wonder is what made Robert Wadlow so tall? Well, the reason behind his extraordinary height was that he was diagnosed with hyperplasia of the pituitary gland, which is located at the base of the brain. The pituitary and the thyroid glands directly relate to the sizer of the growth of an individual. Thought the possibility of corrective surgery was discussed but it was decided against the seriousness of such an operation could have resulted in permanent injury or even death.
At the age of 13, Wadlow was 7 feet 4 inches tall and he gained 301 pounds of weight. He then joined the Boy Scouts of America, attending summer camps. He tried to blend in with the other boys but being able to casually lean on a camp house roof, it was difficult at best not to be noticed. Though Robert to people in Alton was just like any other young boy but for people out of the town would give him a second glance.
Robert Wadlow's Career as the Tallest Man Ever
By the time he graduated from high school, he already has broken the record of the tallest person on earth at 8 feet 4 inches tall.
Besides being the tallest person on earth, Wadlow was known for being humble and in fact, was a gentleman. His father said he rarely found him angry at any time. The only time that he really did get angry was when they were walking in a crowd, and a guy came up behind, kicking him in the shins to see whether or not he was walking on his own legs or using stilts, as his height was unbelievable to many.
After Wadlow turned 21 years old, he was accepted into the Franklin Masonic Temple. While most men's ring size ranged from 8 (18.2mm) to 13, Wadlow's specially made ring measured an unbelievable size of 25, this was the largest ring ever produced to date for a human being. He even received a special chair so he could sit in it and be comfortable.
One would wonder, what the tallest man in the world would do for a living ? In case of Robert Wadlow, this ranged only between 2 career options, one of which was working in circus, which he never liked.
Although Wadlow loved photography and collecting stamps was his hobby, but given the time, in the 1930s, the country was coming out off the Great Depression and it was considered to be standard practice for family members to work together to help support the family and Robert would do this willingly his entire life, thus he never disapproved of working in the circus when his father asked him to work in Ringling Brother's traveling circus in 1936.
The tallest man in the world was the center of attention at the circus, but he never liked being showcased to the crowd as a freak. Robert never took his extraordinary appearance as some kind of illness or oddity.
Ringling Brothers would put him with the other individuals who had physical disabilities or physical oddities and Wadlow never thought of himself that way, he never wore anything other than his three piece coat and tie. And eventually he couldn't took it anymore and decided to quit his career in circus.
In 1938, Wadlow was offered a job by the International Shoe Company after noticing him during the Ringling Brother's circus tours. Robert accepted the offer and became the face of the company. He was traveling around the world, promoting shoes at age of 22 years old. He was by then 8 feet 11.1 inches tall weighing 440 pounds.
Working with the shoe company gained him another benefit and that was receiving free pair of shoes that would have cost him $100 (that is 1700$ today's money!), having an unexceptionally large shoe size, that was size 37 AA, which obviously is the rarest shoe size to this day.
Being that tall, everything that Robert Wadlow required in daily life was not usual, his clothing required three times more cloth than the normal. His father even had to get him a specially modified vehicle just so Wadlow could fit in it. Robert himself had to use the entire driver's side of the car so he could sit and drive comfortably.
Life of the Tallest Man in History Cut Short
Life of Robert Wadlow might have been an exciting one, but it also didn't came up as comfortable as for a normal human being. Besides facing problems with day to day activities at homes, public spaces and general household items, the other major problem that Wadlow faced was to walk properly. He had to endure a lot of physical pain simply walking around. And to aid his walking, special braces had to be fitted to his legs which also turned out to be the sole reason of his death.
On around June 29th, 1940, Robert Wadlow was on a tour in the North-Eastern part of the United States and he complained that he wasn't feeling well. Wadlow was taken to the doctor and after examining him, it was found that one of the braces on his left ankle which had been adjusted prior to the trip had been rubbing against his ankle and caused an infection. 10 days later after minor surgery, blood transfusions, and running temperatures of 106 degrees, Robert Wadlow passed away on July 15th 1940.
The Legacy of The Gentle Giant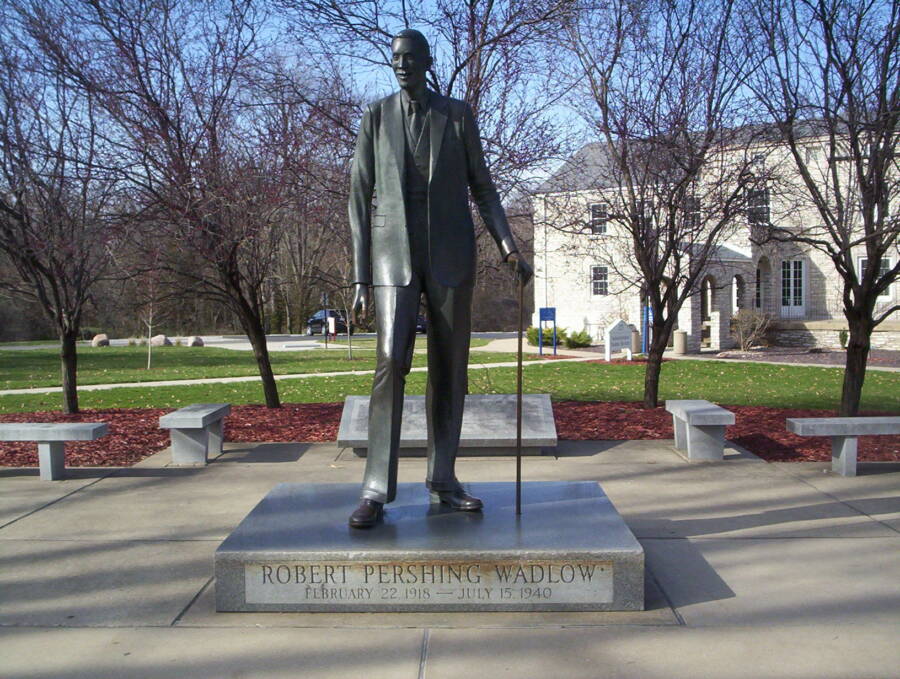 Though Wadlow died at a very young age, being widely known all around the world the Giant of Alton left a behind a legacy. His statue was erected in 1985 in his home town at Alton, at the campus of the Southern Illinios University School Of Dental Medicine.
The one and only ring in the whole world once worn by Wadlow now resides at the Alton Museum of History and Art along with his photographs, his famous pair of shoes, the desk given to him at the school and such personal items used by Waldow are on a public display.
Wadlow's mother never wished his son's image to be vandalized after his death, thus she had got most of his other belongings destroyed after his death.
The legend might have lived a short life, but the story of this kind, ground to earth man remains a inspiration to many.
In case if you are wondering how Shaq O'Neal would have looked like standing next to Wadlow:
Now that you have read about Robert Wadlow – The Tallest Man in History, you might also like reading about the Con Man Who Sold Eiffel Tower, Twice