"For Heaven's sake, catch me Before I kill more I can not control myself," read a note written in lipstick across the living room wall of Frances Brown's apartment.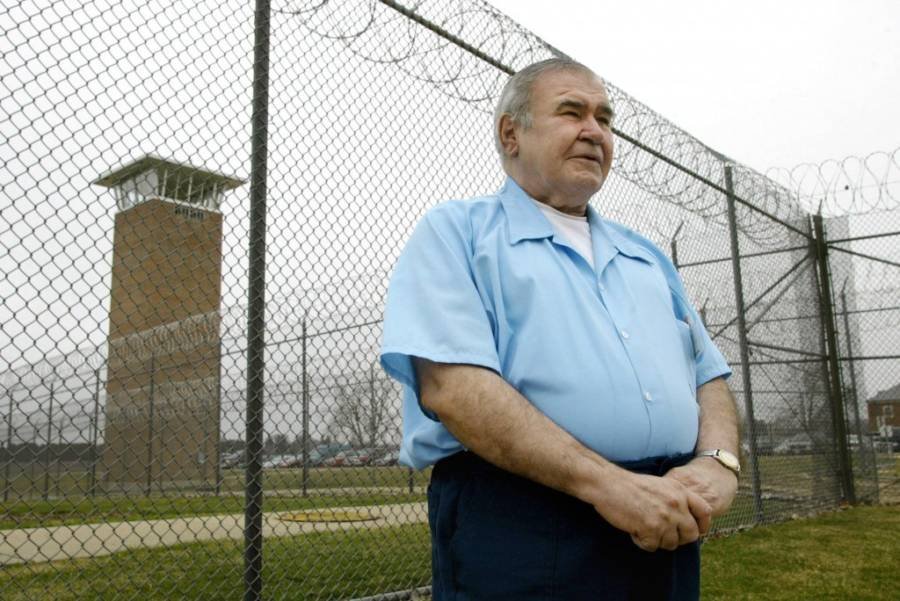 The note was the first of many clues police found in what would later become a string of murders, sensationalized by the Chicago press, and committed by an elusive and mysterious predator dubbed "The Lipstick Killer," who may have been a one William Heirens.
Who was George Heirens?
William George Heirens' early life gave no such indications that he would have grown up to be a serial killer, much less the gruesome Lipstick Killer. Though he stole for fun and to release tension as to avoid listening to his parents arguing, however, he never sold anything he stole.
William was born in a poor family, he was the son of George and Margaret Heirens. William was first arrested at the age of 13 for carrying a loaded gun, which led the police to further search his home, and they discovered a number of stolen weapons hidden in an unused storage shed on the roof of a nearby building along with furs, suits, cameras, radios and jewelry he had stolen.
He was sent to a boy's semi correctional school in Indiana, where his time spent proved ineffective, as he was arrested soon afterward. But this time the punishment was serious and he was sentenced to three years at the St. Bede academy.
However, his time in Indiana proved effective as Heirens stood out as an exceptional student excelling in all subject areas including, mathematics, biological studies, and social sciences. He scored highly in exams and he urged to apply to the University of Chicago's special learning program.
He was accepted into the school just before his release and was asked to begin classes in 1945. At the time he was 17 he was hoping to become an electrical engineer. Soon this changed, and he went back to his childhood "hobby," and evolved into someone far more sinister.
Lipstick Killer Murders
The first murder went unnoticed and didn't make the front pages of the Chicago papers. On the afternoon of June 5, 1945, 43-year-old, Josephine Ross was found dead in her home on the North Side of the city. Josephine was stabbed four times in the throat, and her head was wrapped in a dress.
Dark hair was found clutched in Ross' hand which indicated, she had struggled with her killed before she was killed, no other valuables were taken from the room. Which reduced a chance of a Burglar, it looked like a case of someone known, but Ross's fiancé had an alibi, her ex-boyfriend and ex-husbands, all had alibis, and the police had no other suspects.
It seemed for the time being that the murder of Josephine Ross will go unnoticed, but that soon changed after just six months when George William Heirens committed his second murder. The murder that would shock Chicago, and kick the police investigation into high gear.
The murder of Frances Brown
On December 11, 1945, six months after the murder of Josephine Ross, the body of Frances Brown was discovered, with a knife lodged in her neck and bullet wound to the head in her apartment, and similar to Ross's murder, Brown's head was wrapped in a towel, and lack of evidence. The police found no fingerprints, no evidence of burglary, and not even a bit of a hint of who the murderer could have been.
There was however a big message written in lipstick on the wall of Brown's apartment.
Lipstick killer note
"For Heavens
Sake catch me
Before I kill more
I cannot control myself"
Brown's body was found by a cleaning woman who heard a radio playing loud and decided to enter Brown's partly opened door. Soon the media caught the case and printed it on the front page, giving the culprit name "The Lipstick Killer." But the Lipstick Killer was still nameless, an unidentified man or woman.
Murder of Suzanne Degnan
As the number of victims increased the gruesomeness went to the next level. Around 7:30 on the morning of January 7th, James Degnan was shocked when he discovered his six-year-old daughter Suzanne missing from her bedroom.
Soon the police found a ladder outside the girl's window and a crumpled ransom note:
GeI $20,000 Reddy & wAITe foR WoRd. do NoT NoTify FBI oR Police. Bills IN 5's & 10's. BuRN This FoR heR SAfTY.
The ransom note demanded $20,000 from the family, and as usual the note said the family to not notify the FBI or the police, but as the police doubled their search the ransom note was nothing more than a ruse.
Around 12 hours later, at 7 pm that evening, Suzanne's severed head was found floating in a sewer near the Degnan home. The ribbons that had been tied in her hair that morning were still in place. Her legs and torso were also discovered in nearby sewer basins.
Once again the city of Chicago was caught up in a horrific but captivating crime, though the police were yet to identify the person responsible for the murders of the Lipstick Killers.
Trial of William Heirens
While the police were investigating the Degnan kidnapping and murder, along with the Ross' murders, William Hierns was enjoying his life as a young playboy at the University of Chicago. Heirens started taking ballroom dancing classes and had also developed an interest in playing chess.
William Heirens was at the top of his game, he had recently celebrated an uncle's safe return from the war and was taking a ballroom dancing class. Heirens was also involved with a classmate, whom he planned to take on a date that night – he just needed some extra cash.
William planned to cash a saving bond for $1,000 at the post office, but the office was closed when he arrived. But this wasn't any of Heirens' concern. As he grew older his hobby grew on him, Heirens reached into an open apartment door, in the same upscale neighborhood where Suzanne Degnan once lived.
But the tenant of the apartment spotted him and followed him outside the building, they blocked his path out of the building, Heirens pointed the gun he was carrying at the men saying "Let me out, or I'll let you have it in the guts!"
The residents backed off but one of the neighbors spotted him and called the police. As Heirens attempted to escape, officers closed in, and he pulled a gun from the back of his jeans. One he claimed that he kept in case he was mugged while carrying the bond, and turned it on the two officers.
What really happened might night be known as discrepancies have been found in William Heirens account of his arrest and that of the two officers. While the officers claim that Heirens fired at them and on the other hand Heirens claims that the officers fired first, and then he fled the scene. Whatever the case was, in real two shots were fired, and Heirencs fled.
Heirnes's attempt to run away was cut short after police smashed a flower pot over his head and rendered him unconscious.
George William Hierns As Lipstick Killer
After his arrest on June 26, he was named as the suspect of Lipstick Killer, the police later searched his room at the University, his parents home, and a locker he kept at a local train station. What the police found in the locker would later help the police in finding the Lipstick Killer.
Heirens said that he was interrogated for six consecutive days, he was beaten by police and was not allowed to either drink or eat, he also mentioned that he was not allowed to see his parents for four days, he refused to speak to a lawyer for six days.
Despite several methods, he did not confess to any of the three murders, and much to police dismay. In efforts to get him to talk police enlisted the help of several nurses and one doctor and choose some sinister methods.
Psychiatrists gave Heirens Sodium Pentothal, without a warrant, and without any of his parent's consent and interrogated him for three hours.
In one of the interrogation sessions, a nurse poured ether on Heirens while he was strapped to a bed, and in another session, a police officer repeatedly punched him in the stomach while chanting details of the Dengen murder in an effort to spark recognition in Heirens.
Once a spinal tap was administered in an effort to force Heirens to confess to being the Lipstick killer. In an attempt to get the confession out of him, one of the doctors even injected Heirens with sodium Pentothal, known as the "truth serum."
The torture came to an end when Heirens eventually began to mutter the beginnings of the confession. While under the influence of sodium Pentothal solution Heirens spoke of a man named "George" who could potentially have committed the murders.
Police searched for someone named George for the next few days but came up empty-handed. The fact that Heirnes middle named was George ultimately led police to believe that statement to be somewhat of a confession to being the Lipstick Killer.
The lack of Evidence and Arrest Of The Lipstick Killer
Despite the fact that William George Heirens' handwriting was not found to be an exact match to the note left on Frances brown's wall, and the police had only nine of the FBI required 12 points of identification necessary to deem fingerprints a 100 percent match. The fact that Heirens' confession was disputed by several nurses, police ultimately charged William Heirens as the Lipstick Killer.
Only July 22, 1947, about half a month after his arrest, Heirens was indicted for assault with intent to kill, robber, twenty-three counts of burglary, and three counts of murder.
Despite the fact that the interrogation was clearly botched, Heirens agreed to a full trial, even though he risked being sent to the electric chair.
"The thing is, once you're dead, there's no clearing things up," he said, looking back at his arrest in a 2008 interview. "When you're alive, you still have a chance to prove that you weren't guilty. So I was better off being alive than being dead."
In the end, State's attorney offered a deal of three consecutive life sentences, Heirens plead guilty of to all three murder charges. However, Heirens later recalled that he only pled guilty because he feared for his own life, and was afraid of what would happen if he turned the deal down.
Heirens decision saved him from the electric chair, but it ended up costing him the rest of his life.
For more than 6 decades, William Heirens would be incarcerated and face a maximum-security lifestyle. The Lipstick Killer would attempt suicide three times in 6 decades. He would maintain his innocent until the day he died at the age of 83. When the Lipstick Killer died, he was Chicago's Longest-serving criminal.
Lipstick Killer, William Heirens died on 5th March 2012 at the University of Illinois Hospital Chicago, Illinois, United States.
---
Read more from the website: