Ted Bundy's mother called him minutes before his execution and told him: "You will always be my precious son."
Eleanor Louise Cowell always believed that her son Ted Bundy was innocent and denied that he committed any crimes he was accused of until the day she died.
22-year-old Eleanor Louise Cowell gave birth to Theodore Robert Cowell(Ted Bundy) on November 24 1946 at the Elizabeth Lund Maternity Home for Unwed Mothers in Burlington, Vermont. Eleanor stayed there with his son for about two months, before finally moving to Philadelphia with her family.
Ted Bundy's Mother
Eleanor was urged to give young Theodore up as she was unmarried and had no idea who the father was. As a result, Eleanor's parents decided to take care of the child and raised him as their own.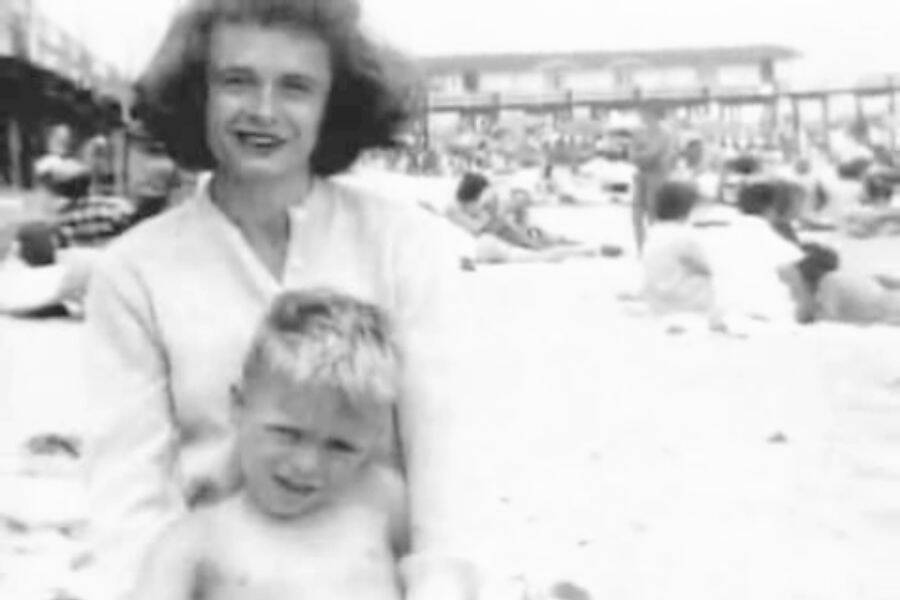 Once in Philadelphia Theodore Cowell began his life with his family, he grew believing that Eleanor, who gave him birth was his sister. Many believe that this is where his sociopathy started.
However, in the book, The Stranger Beside Me, Ann Rule reported that Ted Bundy had told her that he had seen through the lie: "Maybe I just figured out that there couldn't be a twenty-year difference in age between a brother and sister, and Louise always took care of me. I just grew up knowing that she was really my mother."
Eleanor named his child Theodore Robert Cowell, and it wasn't until later when Eleanor married and her husband adopted young Theodore, that he was given a new name, Theodore Bundy, a.k.a. Ted Bundy.
To this day no one, even Eleanor Louise Cowell is quite sure of the identity of the man who impregnated her. Ted Bundy's official birth certificate named an Air Force veteran named Lloyd Marshal as his father, but Eleanor Cowell claimed that it was the man who may have been a sailor, named Jack Worthington.
But whoever it was Ted never seemed concerned about his father, for him his maternal grandfather was his father and his mother was his sister, and no one corrected him.
While Eleanor was normal in the family along with her sister, the rest of Eleanor's family had questionable tendencies. Her mother was subjected to bouts of crippling depression, for which she underwent electroconvulsive therapy as treatment. Eleanor's father was known around the town to be a violent and drunken man, who used to beat his wife, the family dog, and the neighborhood cats. As there was no other man in the house, Bundy would later recall his grandfather, saying that he looks up to him, and "clung to" as well as "identified with" him.
Eleanor remembered him as a racist, sexist, dominant, verbally abusive man, and she found it hard to live in the environment. For the first three years of Theodore's life, Eleanor lived with her family in Philadelphia.
Eleanor Louise Becomes Louise Nelson Bundy
In 1950, Eleanor Louise Cowell changed her name to Louise Nelson and moved to Washington, where Ted's uncle Jack Cowell lived. Eleanor's cousin lived there and for a short while, Ted and his mother lived with them.
In 1951, at the church singles night, Louise met Johnnie Bundy, an army hospital cook. Johnnie Bundy was a sweet and caring man, he was a man that Samuel Cowell failed to be. Louise immediately fell in love with him and within a year they were married and had four more children together.
Despite his mother loving her new life, Ted never bonded with his stepfather and found him unintelligent and poor. On the other hand, Louise loved her new life as a housewife, she loved being a mother and watching her adoring husband taking them on camping trips and fishing adventures. But among all that happiness her firstborn started to distance himself from his family.
She tried everything to keep him with the family, but time and time again Ted refused to be with the family, the distance grew more and her mother too noticed this distance, but nothing could be done, and nothing else than Ted's moody behavior seemed to suggest that he would become one of the most notorious serial killers of all time.
Bundy himself admitted in an interview, "There's nothing in my background which would lead one to believe that I was capable of committing murder."
Like any other mother, Louise Bundy could only see good in her children, even when Ted distanced himself from the family, she assumed that this was due to the sadness and grief over leaving Philadelphia. Ted was arrested at the age of 18, on suspicion of burglary and theft at the age of 18, she never imagined that something more sinister was about to come, something big.
Eleanor Louis Cowell alaways believed that her son is innocent
Louise started working as an administrative assistant at the University of Puget Sound, but the problem between Ted and his stepfather was always there, Ted was materialistic, he wanted clothes and belongings that Johnnie Bundy couldn't provide.
In the late 60s, Ted learned the truth about his mother. However, there are different versions of how he found the truth of his birth. According to a psychologist who interviewed Ted, he found his birth certificate and saw the space for the father had marked "unknown." In another version according to his girlfriend, as a preteen Ted was teased by his cousin about being illegitimate and when he objected, the cousin used his birth certificate to prove the truth.
Ted Bundy's first killed at the age of 27, in 1974 when he killed an 18-year-old girl called Joni Lenz. Many still argue that his first kill didn't come in 1974, Ted might have killed his first victim when he was 14.
For those who don't have any idea about Ted Bundy's reign of terror: Ted Bundy murdered over 30 girls between 1974 and 1989. His case was well-publicized, as was the trial for the case. Mainly because he served as his own attorney.
Even though Ted Bundy initially claimed that he was innocent, he later confessed to his crimes and offered up some gruesome details surrounding many of his murders. Almost everyone believed he was guilty, his wife Carole Ann Boone did not speak to him after he confessed, she took their daughter and moved to a new place.
But there was still one person who believed that Ted Bundy was innocent. Throughout his arrest, and his trial, Louise Bundy proclaimed that there was no way that her son could have done these terrible things.
In 1980 Ted Bundy was convicted for the abduction and killing of 13-year-old Kimberly Leach, Louise Bundy remained supportive of her son. She told the Tacoma News Tribune that she remained supportive of her son.
"Ted Bundy does not go around killing women and little children! Our never-ending faith in Ted, our Faith that he is innocent, has never wavered, and it never will. [Ted has been] the best son in the world." Louise Bundy.
Even after Ted Bundy confessed to killing 30 women, Louise Bundy stood beside her loving son. In 1999 when it was speculated that Ted's first victim may have been his 8-year-old neighbor Louise came to his support immediately.
Eleanor Louise Cowell cause of death
Louis's support for her son remained the same, but despite her fierce support, there was nothing she could do to save her son from the electric chair.
After the death of Ted Bundy, Johnnie and Louise Bundy continued to feel the backlash from the public for being parents to America's most horrifying serial killer. The couple was forced to move, and they changed their phone number to avoid the hateful phone calls and letters.
It is not known whether she had any relationship with Ted Bundy's wife, Carole Ann Boone, and his daughter, Rose Bundy.
Louise Bundy called his son twice on his execution day. A few minutes before being executed Ted Bundy called his mother who told him "You will always be my precious son."
Louise Bundy died in 2012 at the age of 88. Though her local community remembered her as a kind and loving woman, people outside her community would remember her as a mother who defended her serial killer son till her death.
---
Read more from the website: